Beatriz Quiros Blasco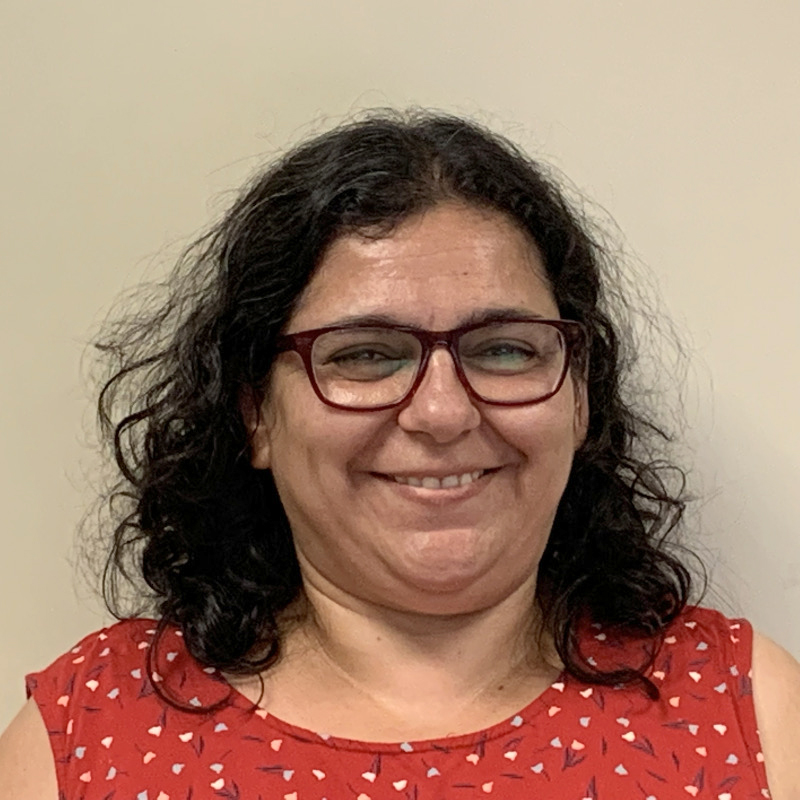 Beatriz Quirós holds bachelor's degrees in Statistics (Universidad de Barcelona, 2001) and in Market Research (Universidad de Barcelona, 2003).
For seven years she worked in market research for several companies in the mass consumption and pharmaceutical sectors, designing ad-hoc questionnaires and performing data analysis and presentation of results to clients.
Since 2010 she is a member of the Unit of Molecular Epidemiology and Genetics in PREC. She is data manager in studies of HPV detection and genotyping carried out in the unit, maintaining and updating the samples' traceability database since 2008. As statistician, she performs univariate and multivariate descriptive analysis, logistic regressions to determine risk factors for cancer caused by HPV, and survival analysis of cohorts.
Since 2013 she is assistant professor in Mathematics and tutor of bachelor's degree final projects in the Faculty of Economics in the Autonomous University of Barcelona-UAB.
ORCID: orcid.org/0000-0002-6187-3732
Email: bquiros@iconcologia.net
---
SELECTED PUBLICATIONS:
de Sanjosé S, Serrano B, Tous S, (...), Quirós B et al. Burden of Human Papillomavirus (HPV)-Related Cancers Attributable to HPVs 6/11/16/18/31/33/45/52 and 58.JNCI Cancer Spectr. 2019 Jan 7;2(4). eCollection 2018 Oct. doi: 10.1093/jncics/pky045
Alejo M, Alemany L, Clavero O, Quiros B et al. Contribution of Human papillomavirus in neuroendocrine tumors from a series of 10,575 invasive cervical cancer cases. Papillomavirus Res. 2018 Jun;5:134-142. Epub 2018 Mar 17. doi: 10.1016/j.pvr.2018.03.005
Rakislova N, Alemany L, Clavero O, (...) Quirós B et al. Differentiated Vulvar Intraepithelial Neoplasia-like and Lichen Sclerosus-like Lesions in HPV-associated Squamous Cell Carcinomas of the Vulva. Am J Surg Pathol. 2018 Jun;42(6):828-835. doi: 10.1097/PAS.0000000000001047
Mena M, Taberna M, Tous S, (...) Quiros B et al. Double positivity for HPV-DNA/p16ink4a is the biomarker with strongest diagnostic accuracy and prognostic value for human papillomavirus related oropharyngeal cancer patients. Oral Oncol. 2018 Mar;78:137-144. Epub 2018 Feb 20. doi: 10.1016/j.oraloncology.2018.01.010
Rakislova N, Clavero O, Alemany L, (...), Quirós B et al. Int J Cancer. Histological characteristics of HPV-associated and -independent squamous cell carcinomas of the vulva: A study of 1,594 cases. 2017 Dec 15;141(12):2517-2527. Epub 2017 Aug 31. doi: 10.1002/ijc.31006
Clavero O, McCloskey J, Molina VM, Quirós B et al. Squamous intraepithelial lesions of the anal squamocolumnar junction: Histopathological classification and HPV genotyping.Papillomavirus Res. 2017 Jun;3:11-17. Epub 2016 Dec 9. doi: 10.1016/j.pvr.2016.12.001
Halec G, Alemany L, Quiros B et al. Biological relevance of human papillomaviruses in vulvar cancer. Mod Pathol. 2017 Apr;30(4):549-562.. Epub 2017 Jan 6. doi: 10.1038/modpathol.2016.197
Castellsagué X, Alemany L, Quer M, Halec G, Quirós B et al. HPV Involvement in Head and Neck Cancers: Comprehensive Assessment of Biomarkers in 3680 Patients.J Natl Cancer Inst. 2016 Jan 28;108(6):djv403. Print 2016 Jun. doi: 10.1093/jnci/djv403
Alemany L, Cubilla A, Halec G, Kasamatsu E, Quirós B et al. Role of Human Papillomavirus in Penile Carcinomas Worldwide.Eur Urol. 2016 May;69(5):953-61. Epub 2016 Jan 5. doi: 10.1016/j.eururo.2015.12.007
Serrano B, de Sanjosé S, Tous S, Quiros B, et al. Human papillomavirus genotype attribution for HPVs 6, 11, 16, 18, 31, 33, 45, 52 and 58 in female anogenital lesions. Eur J Cancer. 2015 Sep;51(13):1732-41. Epub 2015 Jun 26. doi: 10.1016/j.ejca.2015.06.001