Jesús Brenes Castro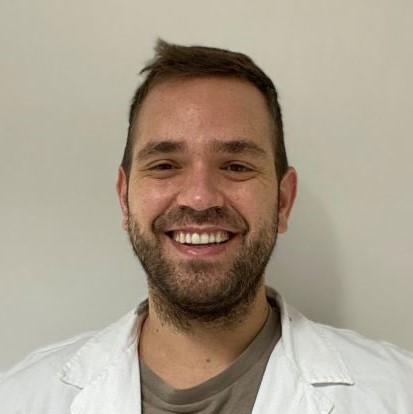 Jesús Brenes Castro holds a Medicine degree (University of Sevilla, 2013, complementary formation in Universitätsklinikum Hamburg-Eppendorf for 2 years 2011-2013), specialist in Medical Oncology (Complejo Hospitalario Universitario Insular Materno-Infantil, 2019), Master in Medical Oncology (University of Girona, 2019), Master's degree on Molecular Oncology (Centro Nacional de Investigaciones Oncológicas, 2021) and Master's degree on Immune-Oncology (Universidad de Navarra 2022).
During the Specialist Trainee, he joined as member of Grupo Español de Tratamiento de Tumores de Cabeza y Cuello (TTCC) and Grupo Español de Cáncer de Pulmón (GECP). After the training at Complejo Hospitalario Universitario Insular Materno-Infantil in Medical Oncology he received a fellowship from Catalan Institute of Oncology (2019) for clinical and investigation formation in Head and Neck Section and Thoracic Section where he has a wide participation in clinical trials (phase I, II and III) as Sub-Investigator. Some of the clinical trials are directly related with the implication and active participation of Jesús Brenes; NCT03753919 (Phase I clinical trial, sponsored by Catalan Institute of Oncology, for Head and Neck patients with preliminary published results and future peer-reviewed - https://oncologypro.esmo.org/meeting-resources/esmo-immuno-oncology-congress-2019/vcn-01-plus-durvalumab-in-subjects-with-recurrent-metastatic-head-neck-squamous-cellcarcinoma-r-m-hnscc-phase-i-clinical-trial) and NCT04282109 (NivoTax Clinical Trial, sponsored by TTCC, preliminary results yet to be established).
Additionally, Jesús Brenes is currently working in several ongoing investigational projects. After he joined TTCC and GECP his main tasks of research started; Characterization of Venous Thromboembolic Disease in patients with lung cancer in immunotherapy treatment (active recruitment in association with other Spanish centre, preliminary results yet to be determined), Immunorelated Nephritis in patients with Lung Cancer (pending of publications), Cris Foundation Grant accepted for ctDNA characterization in Head and Neck Cancer patients, as team researcher (pending of ruling) are some of the ongoing projects where the applicant is currently involved.
His clinical position in Head and Neck and Thoracic tumors units with investigational and translational work in Catalan Institute of Oncology - IDIBELL as clinical Oncology and the his current position as pre-doctorate in the Cancer Epidemiology Research Program (PREC) of the Catalan Institute of Oncology (ICO/IDIBELL) will impulse him to improve his professional career and continuing his PhD based on identification of viral prognostic biomarkers and the role of microbiome using non-invasive techniques in patients with oropharyngeal cancer, in the framework of the FIS 018-00377 (Proyecto de Investigación en Salud. Instituto de Salud Carlos III); "Identificación of viral prognostic and genetic non-invasive biomarkers in patients with Oropharyngeal Carcinoma HPV-related", leading the group, and improving his leader skills, under the supervision of Laia Alemany Vilches (Head of the Unit of Molecular Epidemiology and Genetics in Infections and Cancer -UNIC EMG-). Jesús Brenes has been recently awarded with a Rio Hortega grant to this purpose (CM21/00073).
ORCID: orcid.org/0000-0003-0238-3319
Email: jbrenes@iconcologia.net