Miguel Ángel Pavón Ribas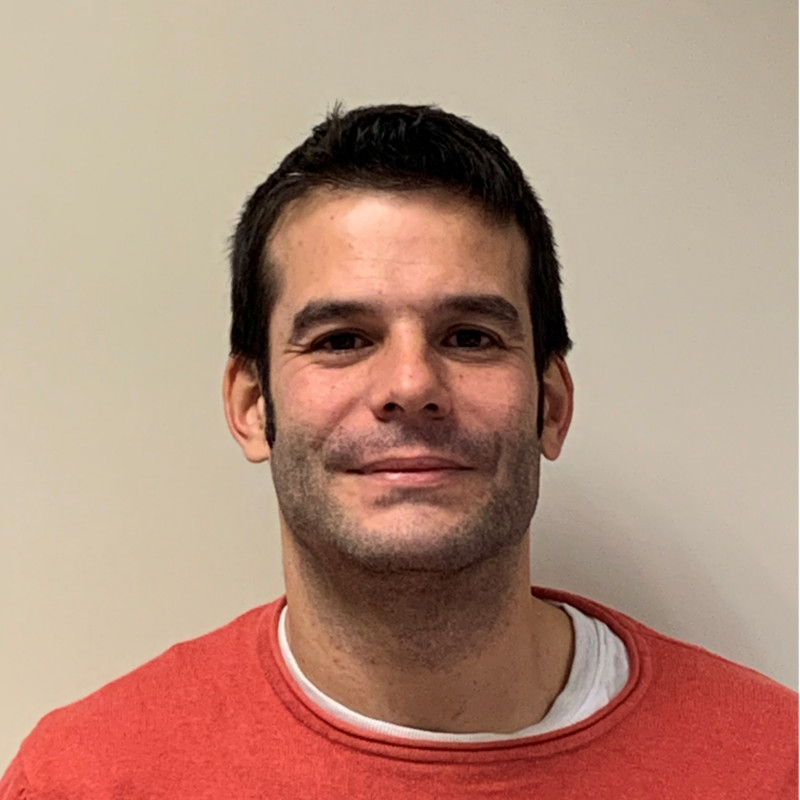 Miquel Àngel Pavón holds a Biology degree (Universitat utònoma de Barcelona, 2002) and a PhD in Biomedicine (Universitat de Barcelona, 2009).
As a graduate student (2002-2003), he joined to the Hepatitis C research group at the Hospital Clinic the Barcelona and collaborated with a study to analyse the role of HCV genome variability on the development of acute, chronic disease or cancer. From 2003 to 2009 was trained as a pre-doctoral student at the Oncogenesis and Antitumor Drugs Group at Sant Pau Biomedical Research Institute (IIB-Sant Pau). His PhD project was focused on identifying new gene expression signatures and molecular pathways associated with treatment response and the clinical outcome in patients with head and neck cancer. During his period as a postdoctoral researcher, he focused his research on the development of in vitro and in vivo models for studying the head and neck cancer metastatic dissemination
In May 2016, MA Pavón joined the Cancer Epidemiology Research Program (PREC) in the Catalan Institute of Oncology (ICO) as a coordinator of the Infection and Cancer Laboratory (INCALAB), where he has extended his research to all neoplasm associated with Human Papillomavirus (HPV) infection. Beyond coordinating the laboratory's diagnostic and screening activity, he leads several research studies focused on identifying new molecular markers associated with HPV infection persistence and cancer progression. In 2017 he conducted a short stage as a visiting researcher at the National Cancer Institute (NCI, EEUU). He is currently leading a study aimed to identify new Human papillomavirus 16 genetic variants associated with invasive progression in vulvar cancer (VPH16-INVASIV PI17/00123). He recently opened a new research line to analyse if the vaccination is a suitable strategy to limit infectivity of body fluids from HPV positive women (RIFT1 / 2 MISP; HPV-VIOLIN PI20 / 018) as a potential strategy to limit HPV transmission
He collaborates as a researcher in the CIBER-ESP group of the UNIC and as a secretary of the functional diagnosis unit of the human papillomavirus (UD-VPH) that joins all the departments and clinicians involved in screening, diagnosis and treatment of HPV-associated neoplasms in the environment of the ICO, Bellvitge's Hospital and the associated centres of the southern metropolitan area
ORCID: orcid.org/0000-0003-3677-5329
Email: mpavon@iconcologia.net
---
SELECTED PUBLICATIONS:
Lorenzo-Martín LF, Fernández-Parejo N, Menacho-Márquez M, …., Pavón MA, et al. VAV2 signaling promotes regenerative proliferation in both cutaneous and head and neck squamous cell carcinoma. Nat Commun. 2020 Sep 22;11(1):4788. doi: 10.1038/s41467-020-18524-3
Kelly H, Benavente Y, Pavon MA, et al. Performance of DNA methylation assays for detection of high-grade cervical intraepithelial neoplasia (CIN2+): a systematic review and meta-analysis. Br J Cancer. 2019 Nov;121(11):954-965. doi: 10.1038/s41416-019-0593-4
Clifford GM, Tenet V, Georges D, …, Pavón MA, et al. Human papillomavirus 16 sub-lineage dispersal and cervical cancer risk worldwide: Whole viral genome sequences from 7116 HPV16-positive women. Papillomavirus Res. 2019 Jun;7:67-74. doi: 10.1016/j.pvr.2019.02.001
Pavón MA, Arroyo-Solera I, León X, et al. The combined use of EFS, GPX2, and SPRR1A expression could distinguish favorable from poor clinical outcome among epithelial-like head and neck carcinoma subtypes. Head Neck. 2019 Jun;41(6):1830-1845. doi: 10.1002/hed.25623
Mena M, Frias-Gomez J, Taberna M, …, Pavón MA, et al.. Epidemiology of human papillomavirus-related oropharyngeal cancer in a classically low-burden region of southern Europe. Sci Rep. 2020 Aug 6;10(1):13219. doi: 10.1038/s41598-020-70118-7
Houlihan CF, Baisley K, Bravo IG, Pavón MA ,et al. Human papillomavirus DNA detected in fingertip, oral and bathroom samples from unvaccinated adolescent girls in Tanzania. Sex Transm Infect. 2019 Aug;95(5):374-379. doi: 10.1136/sextrans-2018-053756
Arroyo-Solera I, Pavón MÁ, León X, et al. Effect of serpinE1 overexpression on the primary tumor and lymph node, and lung metastases in head and neck squamous cell carcinoma. Head Neck. 2019 Feb;41(2):429-439. doi: 10.1002/hed.25437
de Sanjosé S, Brotons M, Pavón MA. The natural history of human papillomavirus infection. Best Pract Res Clin Obstet Gynaecol. 2018 Feb;47:2-13. doi: 10.1016/j.bpobgyn.2017.08.015
Taberna M, Mena M, Pavón MA, et al. Ann Oncol. 2017 Oct 1;28(10):2386-2398. doi: 10.1093/annonc/mdx304
Costas L, Frias-Gomez J, Guardiola M, …, Pavón MÁ, et al.; Screenwide Team. New perspectives on screening and early detection of endometrial cancer. Int J Cancer. 2019 Dec 15;145(12):3194-3206. doi: 10.1002/ijc.32514f endometrial cancer. Int J Cancer. 2019 Dec 15;145(12):3194-3206. doi: 10.1002/ijc.32514.