Omar Clavero Carletti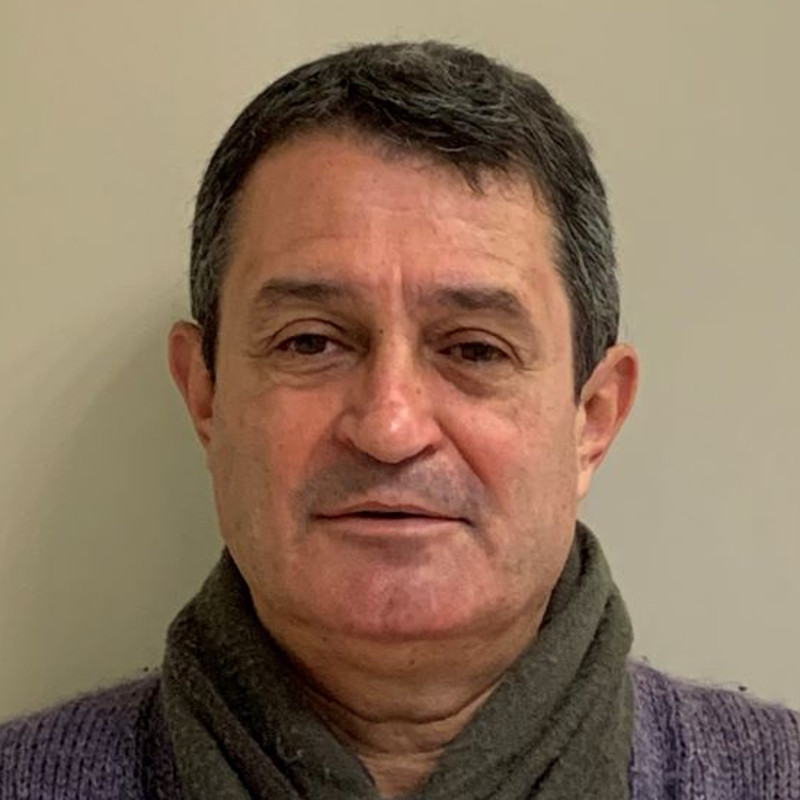 Omar Clavero Carletti is a medical doctor, graduated from the Faculty of Medicine at the University of Córdoba (Argentina) in 1983.
After obtaining his bachelor's degree, from 1984 to 1986 he worked at the National University of Córdoba in the Cell Biology department, carrying out research in the field of embryology, studying the migration of neural crest cells in chicken embryos.
From 1986 to 1989 he did his residency in pathological anatomy at the National Clinics Hospital of the National University of Córdoba, where he graduated as a pathologist. Thereupon, he worked as a pathologist in Argentina until 2004, when he moved to Spain.
Since 2005 he has been working in the Cancer Epidemiology Research Programme (PREC) at the Catalan Institute of Oncology (ICO), where he has actively participated in different studies on human papillomavirus (HPV) and its associated cancers. His work focuses on the pathological evaluation of samples collected for the different studies.
Additionally, from 2007 he joined the Pathological Anatomy Department at the Quirón Hospital, where he applies his experience acquired as a researcher into healthcare practice.
ORCID: orcid.org/0000-0001-9721-6382
Email: oclavero@iconcologia.net
---
SELECTED PUBLICATIONS:
Xavier Castellsagué, Laia Alemany, Miquel Quer, (…) Clavero O, et al. HPV Involvement in Head and Neck Cancers: Comprehensive Assessment of Biomarkers in 3680 Patients. J Natl Cancer Inst. 2016 Jan 28;108(6):djv403. doi: 10.1093/jnci/djv403
de Sanjose S1, Quint WG, Alemany L, (…) Clavero O, et al. Human papillomavirus genotype attribution in invasive cervical cancer: a retrospective cross-sectional worldwide study. Lancet Oncol. 2010 Nov;11(11):1048-56. doi: 10.1016/S1470-2045(10)70230-8.
Maria Alejo, Laia Alemany, Clavero O, et al. Contribution of Human papillomavirus in neuroendocrine tumors from a series of 10,575 invasive cervical cancer cases. Papillomavirus Res 2018 Jun;5:134-142. doi: 10.1016/j.pvr.2018.03.005
Halec G, Alemany L, Quiros B, (…) Clavero O, et al. Biological relevance of human papillomaviruses in vulvar cancer.. Mod Pathol. 2017 Apr;30(4):549-562. doi: 10.1038/modpathol.2016.197.
Alemany L, Saunier M, Alvarado-Cabrero I. (...) Clavero O, et al. HPV VVAP Study Group. Human papillomavirus DNA prevalence and type distribution in anal carcinomas worldwide. Int J Cancer. 2015 Jan 1;136(1):98-107. doi: 10.1002/ijc.28963
Clavero O, Jenny McCloskeyc, Vicente Marco Molina, et al. Squamous intraepithelial lesions of the anal squamocolumnar junction: Histopathological classification and HPV genotyping. Papillomavirus Res. 2017 Jun;3:11-17. doi: 10.1016/j.pvr.2016.12.001.
Natalia Rakislova, Clavero O, Laia Alemany, et al. Histological characteristics of HPV‐associated and ‐independent squamous cell carcinomas of the vulva: A study of 1,594 cases. Int J Cancer. 2017 Dec 15;141(12):2517-2527. doi: 10.1002/ijc.31006.
L Alemany, M Saunier, L Tinoco, B Quirós (…) Clavero O, et al Large contribution of human papillomavirus in vaginal neoplastic lesions: a worldwide study in 597 samples. Eur J Cancer. 2014 Nov;50(16):2846-54. doi: 10.1016/j.ejca.2014.07.018.
Cañete-Portillo S, Clavero O, Sanchez DF, et al. Medullary Carcinoma of the Penis: A Distinctive HPV-related Neoplasm: A Report of 12 Cases. Am J Surg Pathol. 2017 Apr;41(4):535-540. doi: 10.1097/PAS.0000000000000779
Vicente Marco, Isabel T Rubio, Felip García, (…) Clavero O. Basaloid squamous cell carcinoma of the breast. Rev Esp Patol. 2020 Apr-Jun;53(2):113-116. doi: 0.1016/j.patol.2019.10.003.